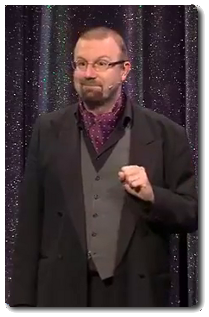 James Merlin is a Cambridge-based magician and mind reader. As a magician he entertains with cards, coins, little red boxes and tin cans! As a mind reader (or mentalist) he entertains with pieces of paper, cardboard, and that other 2-dimensional prop - his brain!
James is one of the most versatile performers on the circuit and works tables at parties, dinners, and corporate functions. Each evening is tailored to the needs of the client, and can include as many (or as few) card tricks as you'd like!
"James Merlin is the Derren Brown of Cambridge"
Although not a children's entertainer, as such, his performances and patter are perfectly suitable for, and enjoyed by, kids of all ages. There's nothing blue in the act, except his shirt! (Oh, and he's CRB-checked, too.)
So, if you're looking for an entertainer that engages your audience in a polite and respectful manner, then get in touch for a quote specific to your event.